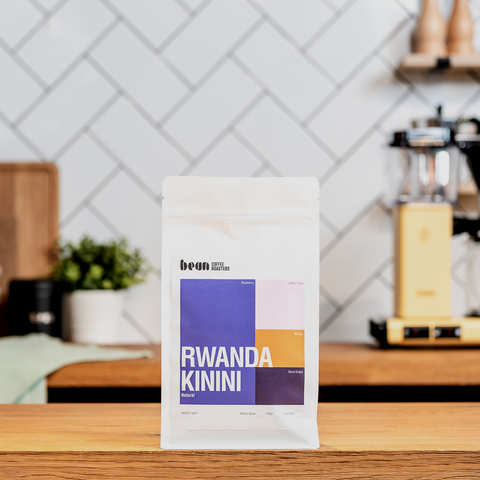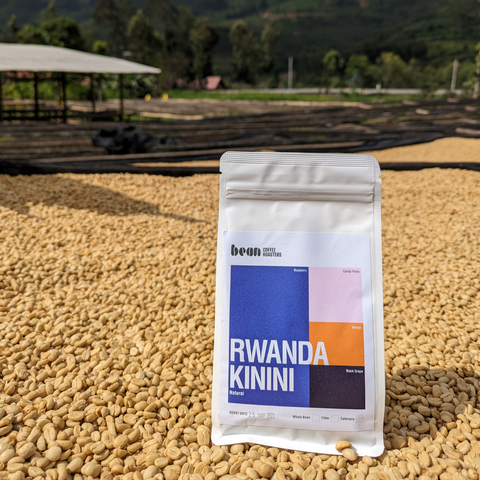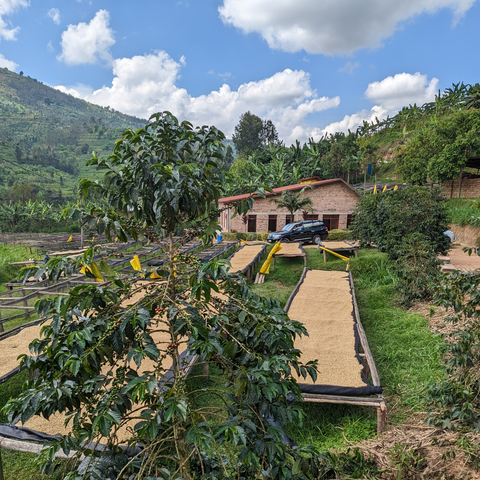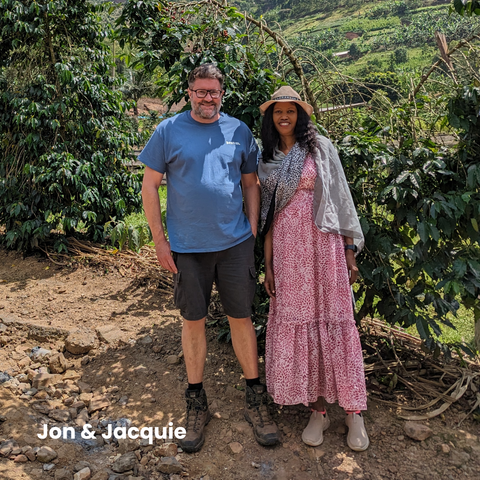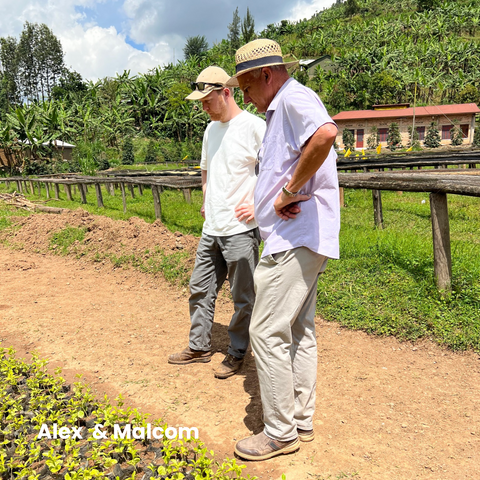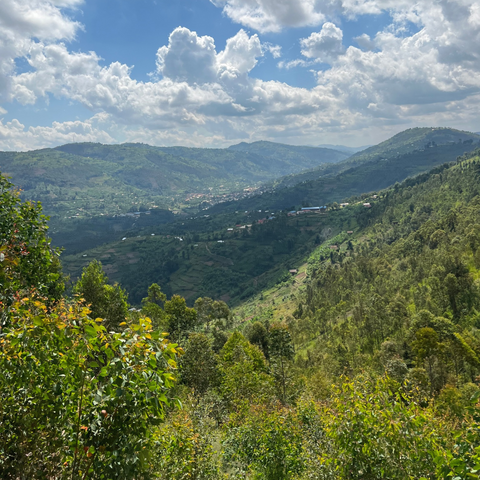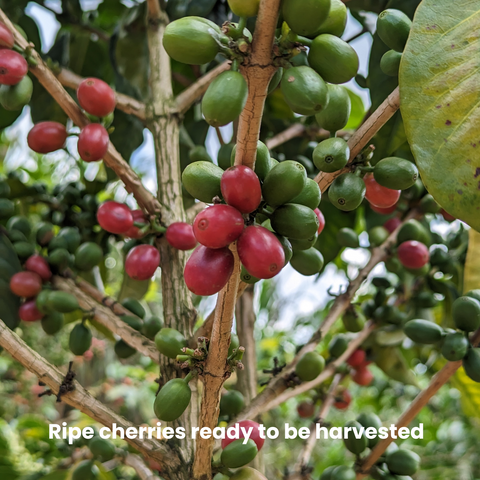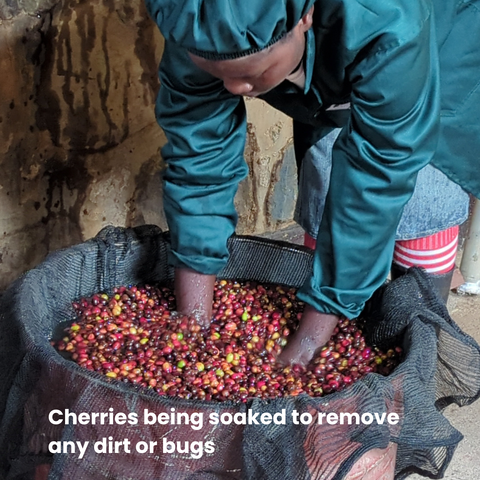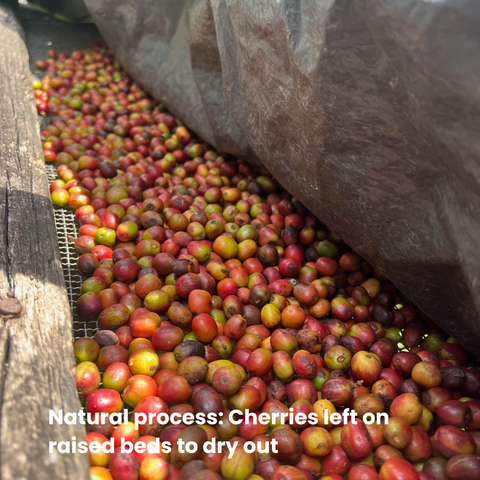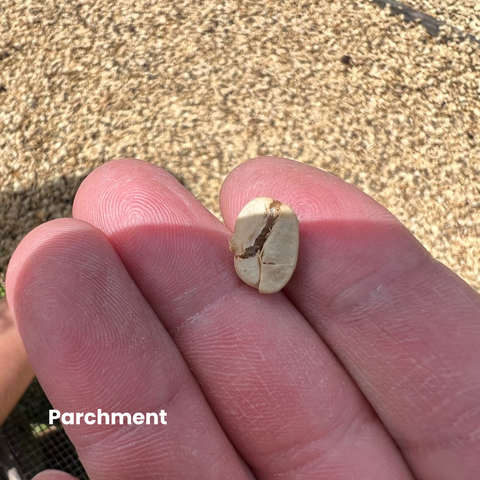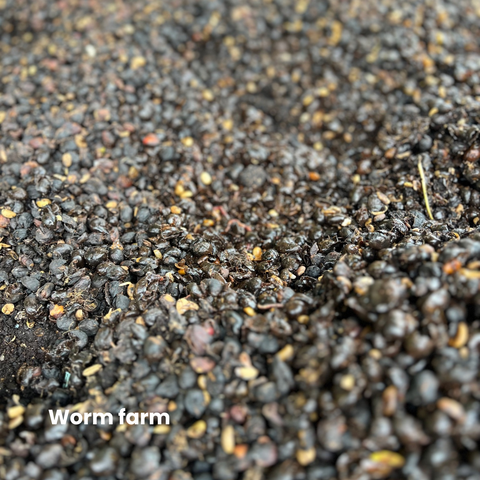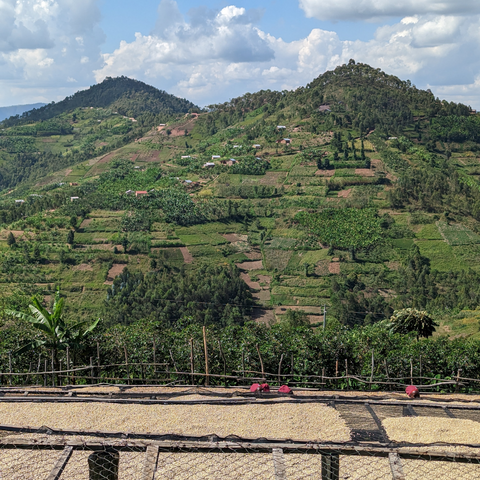 Rwanda Kinini
Choose subscription or one-time purchase
This natural processed coffee from the northern province of Rwanda is a flavour bomb, with delicious fruity flavours of blueberry and mango.
The coffee is selected and brought from various small holders in the Rusiga & Mbogo regions to the Kinini washing station. Here it is separated from other lots to be spread out and dried for 48 days on raised beds. 
Jacquie and Malcom are the founders of Kinini Coffee. Jacquie's parents were from the Musenyi village, and Jacquie wanted to help the situation there around deprivation, lack of schooling and basic medicine. Malcolm is from the UK, but met Jacquie through Jacquie's late husband. He helped Jacquie's plan to build new beginnings come to fruition with various fundraising and events to get it off the ground.
In June 2023, we visited the Kinini Washing Station, you can read more about our visit here and more about 'A New Beginnings' on this blog post.
We love this coffee brewed with an AeroPress.
Delivery
We aim to dispatch orders placed before midday on the same day.  Under normal circumstances all items should be delivered to you within 2 working days or sooner. 
Returns
We have a 30-day return policy, which means you have 30 days after receiving your item to request a return.

To be eligible for a return, your item must be in the same condition that you received it, unused, and in its original packaging. 
About Kinini Washing Station
The Northern Province in Rwanda is one of five that were created in 200 as part of a government decentralization program designed to restructure administration locally.
Containing an abundancy of interlocking undulate slopes and mountains, coffee here is frequently grown heavily intercropped on small farms and gardens hewn from the hillsides. Satellite technology is used to monitor leaf glare from the trees - any changes can be a sign of disease or infestation and early detection pays dividends when it comes to clean cups and good green.
Weather has proven changeable and inconsistent over recent years. Coupled with high to extremely high altitudes, this has led to a widening of the cropping period from late March or April (starting on the lower altitudes) right through to December for the highest plots.
2019 has been the first year for the production of naturals allowing for a little research first to ensure the output is of the quality we have come to expect from Jacquie and Malcolm. Coffee is picked and brought to the Kinini washing station where it is separated from the other lots to be processed.
The cherry must be delivered by 4pm on the day of picking and infrastructure has been built in order to make this easier. As the washing station grows, raised beds have expanded allowing the cherry to be spread out and dried for 48 days at a depth of two inches, turning regularly to avoid over fermentation and allow even drying throughout the crop.
Each raised bed comes with its own marker to ensure microlot traceability and yellow tarpaulin for quick covering in case of rain.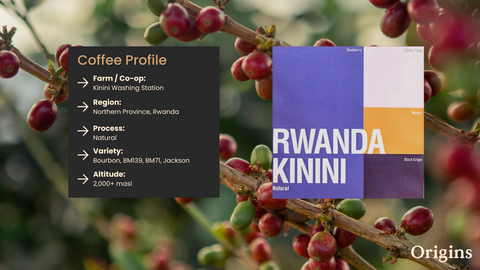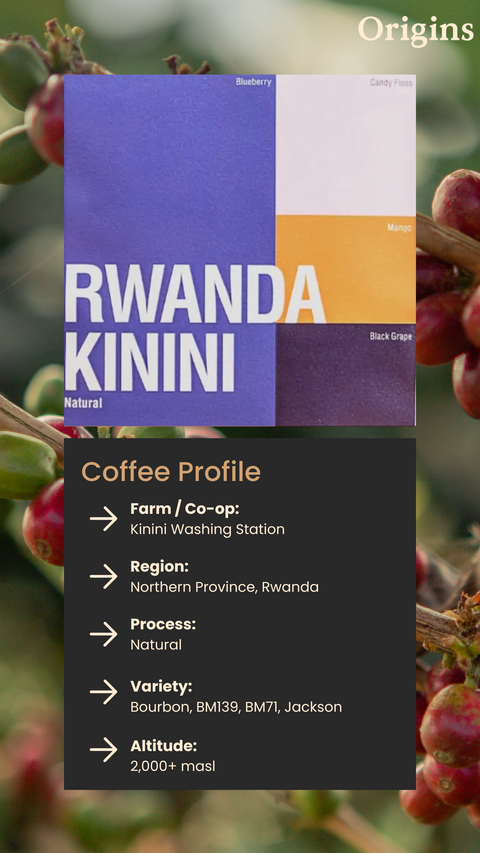 Frequently asked questions
What is single origin coffee?
Our passion for coffee comes from our love for the way it's made, the people who grow it and the care they put in to growing every single coffee plant - making sure each bean is of the highest quality.
From visits to coffee farms across the globe and the close relationships we hold dearly with farmers and trusted import partners, we have embraced our responsibility to do our bit to help make the coffee industry better - starting by knowing exactly where our beans come from, who is growing them and who's handling it between the farm and us.
Understanding this chain is the key to ensuring a sustainable future for coffee growing communities for years to come and the ability to continually improve quality of coffee and quality of life.
Every one of the coffees we buy is specialty grade, has a story behind it and is grown, harvested, and processed with care and attention.
What are the benefits of subscribing?
The benefits of subscribing include saving 20% on every order, receiving a welcome gift, being in control, and getting tasty single origin coffee delivered to your door on a frequency of your choosing. By subscribing you can enjoy the convenience of having your favourite blend delivered to you on a regular basis, at a discounted price, and with a special welcome gift to get you started. Our subscription will save you time and money, and make sure that you always have a delicious cup of coffee on hand.
Where is your coffee roasted?
We roast all our coffee in our Liverpool Roastery and have been doing so since 2015.
We roast a range of speciality coffee, including many single origins and our signature Bean Blend – a number of which have won Great Taste Awards that we're really proud of.
What do you do to be sustainable?
Here at Bean we are dedicated to doing the best we can to ensure we have a truly sustainable supply chain, from crop to cup. We are always choosing the most eco-friendly options that are available to us and are constantly looking for ways we can improve.
In our stores we offer customers 50p off their drink when they bring in reusable cup, we ourselves use recyclable cups, and compostable lids and straws.
You can learn more about what we're doing to lessen our footprint here.