Our Award Winning Bean Blend
Tried and tested, this blend of 3 speciality coffees complementing each other well is a favourite in all our coffee shops and wholesale partners. This coffee is a crowd pleaser, ideal for brewing your way, with or without milk.
Our Bean Blend, recognised with a 2-star Great Taste award, is a testament to our dedication on sourcing the best beans, as well as our refinement of small-scale
roasting to achieve a more nuanced flavour profile.
Oli's Blend
Our Charity Coffee Oli's Blend was chosen by the wonderful staff at Alder Hey Children's Charity and named after the familiar charity mascot, Oli the Elephant.
Since the launch of our Special Edition Brazil DBarbosa, we have raised over £10,000, so far by doing what we do best: roasting and selling great coffee. £5 from every bag sold is donated to the Charity.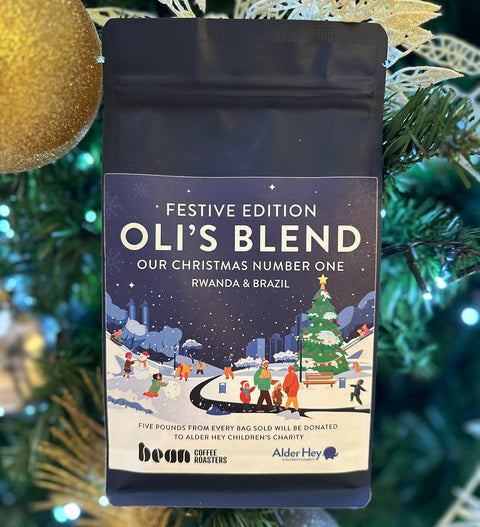 Christmas Coffee - Oli's Blend - For Alder Hey Children's Charity
The Alder Hey Mission
There is a special feeling at Alder Hey Children's Hospital – a warm welcome, a sense of fun, and the kind, family-oriented care you'd expect in Liverpool. The strikingly designed hospital is home to innovators and experts in children's healthcare, dedicated to creating brighter futures.
The charity funds state-of-the-art equipment, facilities, and life-saving research. They are proud to bring the extra magic that makes hospital life the best it can be for 900 brave young patients treated at Alder Hey every day.