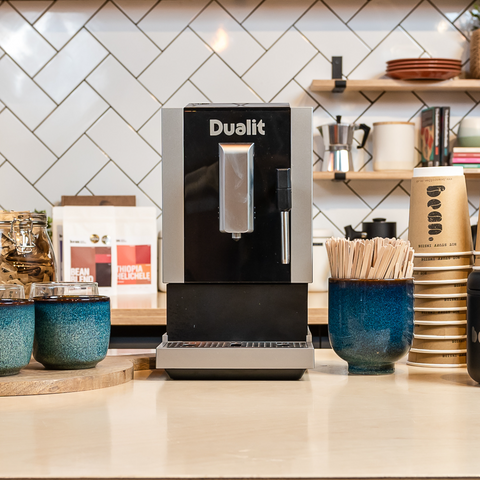 Bean to cup machine subscription
The ultimate way to enjoy coffee at your office! Using our fresh whole beans you simply pour them into the machine and wait for Barista-style coffee to be poured into your cup... delicious!
Each pack contains 1kg of coffee which is about 60 cups
Depending on how many you order you'll either get 50% off or a FREE Dualit coffee machine worth over £200!
For any offices larger than 50 team members please contact us directly at wholesale@beancoffee.co.uk and we'll be happy to help you with a personalised solution with the same great value.
Subscription fee is charged once every 3 months and delivered every 4 weeks.
How many members of staff do you have?
For 3 months worth of coffee. Charged every quarter, delivered every month.
Who's it for?
All sizes of business, whether you're a small outfit or in a large office we cater for everyone.
What's the Bean Blend like?
Our award-winning Bean Blend is our tried and tested blend of 3 speciality coffees from around the world complementing each other well, a favourite in all of our coffee shops and beyond.
This coffee is a crowd pleaser ideal for brewing your way, with or without milk. The chocolate flavours from the natural Brazil take charge, balanced by the mild acidity and fruitiness of the Nicaragua and the full bodied India.
How long does the subscription last?
Your subscription will automatically be charged every 3 months starting from the date of your first order, and you'll receive email notifications of this every time. It's a minimum of 12-months but you also get a free gift in return, and then it's a rolling subscription after that.
Can I update and edit my subscription?
Yes, whenever you like! Just login to your account on our website and you can easily edit your subscription at any time.
Is there customer support?
Yes of course, we're a friendly bunch here at Bean and will always help with any questions you might have. You can call us on weekdays or email us anytime and expect a quick and helpful response every time.
Can I get an invoice?
Yes, we send out a confirmation email with details of your order including VAT so your finance team are also happy!
Offices who love Bean
Hear from the office managers and business owners

Tracy Boyle
Everton Football Club
Bean have worked with us at our new headquarters in the Royal Liver Building since we moved here nearly 5 years ago. Staff members at Bean feel like they are part of the Everton Family, and the Coffee bar has proved really popular among colleagues.

I'd say that there is only Bean when it comes to a local coffee partner. For years, I've been a fan of Bean's roast, and being able to brew a pot in the office at Moore Media is perfect - knowing it's always hot for the team and our clients is why we love our Bean machine!

Georgie Betts
Bettsy Creative
We bought our Moccamaster from the L1 Bean store early last year and to say it has been a hit in the office is an understatement! Easy to use, looks fab, and the coffee tastes great. We will definitely return to the Brew Bar for more when we run out!

Chris Middleton
Senior Commerical Manager, Bruntwood
Bean provides specialty coffee beans and equipment to our UK-wide office portfolio.

After becoming dissatisfied with the quality of thecoffee provided by our typical contract caterer, we wanted to explore introducing specialty grade coffee into our workspaces for customers and colleagues.

Spanning more than four cities and with over 50,000 people working in our buildings, we found that not many independent roasteries had the operational capacity to service our needs.

Bean on the other hand were more than up to the task, and Jon's team and their knowledge were invaluable throughout the set-up process, and they were able to offer us a bespoke blend of coffee that is now enjoyed across many of our buildings.
You might also like
You can also order all the extra essentials as part of your subscription.